Pint-Sized Pups Capture Hearts 
When a litter of 6-week-old puppies were left in a box under a bridge during the frigid Chicago winter, we had no time to waste to ensure these precious puppies received proper treatment at The Anti-Cruelty Society. Abandoning animals is no laughing matter, especially vulnerable puppies left without their mother who must then deal with Chicago's dangerous winter temperatures which can reach average lows in the teens and single digits! 
These little shepherds immediately got the medical attention they needed at our clinic, in addition to being placed in foster care to aid in this vital rescue effort. Thankfully, each one of these pups were able to find loving and cozy forever homes, putting this period of neglect past them once and for all. One of those doggos, Grover, was even adopted by an ACS staff member, Amber! Grover is thriving in his new home and is even learning all kinds of new tricks (with a puppy class certificate to prove it!)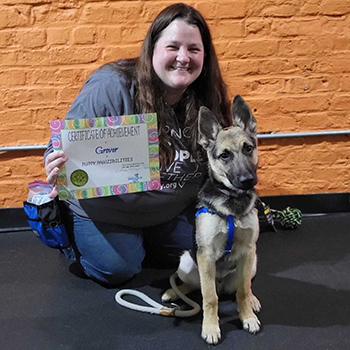 Your survey will help ensure we receive proper feedback to continue providing the BEST Care for litters like the one abandoned under a Chicago bridge, as well as any other furry friends who come under our care. Thank you for making a difference in the lives of countless vulnerable animals. 
We appreciate your time sharing your thoughts on The Anti-Cruelty Society.