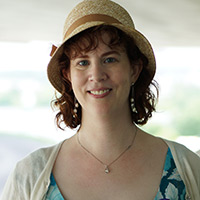 Meet Perri Smith
Perri jumped into volunteering 10 years ago when she found herself between jobs and watching too much Animal Planet. She decided she should get out of the house and do something with herself instead of sitting around being gloomy - so she started volunteering! 
"Cat Adopts was my first love, and remains my favorite program because I get to share my enthusiasm with visitors (and new volunteers!) while also getting lots of quality time with the furballs." Perri is cross-trained in our Small Mammal Socialization program for socializing rabbits, guinea pigs and other small critters as well as the Cat Clicker Project where she teaches adoptable felines special tricks.
Perri has 3 cats: Jack, handsome senior boy #1 who thinks the world is here to worship him; Iroh, her second gorgeous senior who requires constant reassuring cuddles; and Princess Chloe Katherine, First of Her Name, Destroyer of Sushi, who is an absolute diva but gets away with it by being snuggly and adorable.
During her free time, Perri is a voracious reader and a serious sci-fi and fantasy geek. She enjoys watching animated films and movies with lots of explosions. Perri also enjoys hanging out with her cats, and studying Middle Eastern dance.