Foster Candidates
Thank you for visiting our foster candidates page! Below is a current list of pets who need rehabilitation through our foster care program.
Foster Candidates Awaiting Placement
Updated: 7/9/20 at 9:03 AM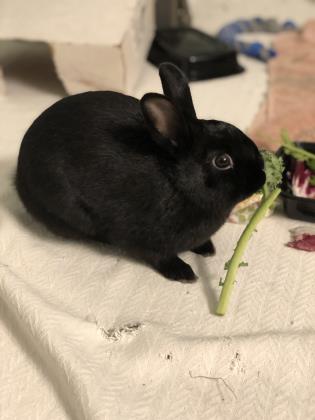 Name: 

Spruce
Age: 

9 Months
Reason for Foster: 

Socialization
Length of Stay: 

1-2 weeks
Intake Date: 

11/17/19
Meet Spruce! Spruce is a wonderful girl who's looking for a short term relief foster while her foster parent goes out of town. Spruce loves to munch on hay and other treats while hopping around in her play pen. 
An ideal home would allow Spruce the freedom to roam in a bunny-proofed area, as rabbits are very curious and love to chew! Rabbit-proofing your home includes ensuring it's free from reachable cords, wires, houseplants, and any other potentially harmful items. Spruce will also need a litter pan with paper-based litter, a daily-freshened bowl of water, 2 cups of daily of fresh, green veggies, unlimited amounts of hay, and 1/2 cup of pellets daily.
Spruce will also need enrichment such as rabbit toys, rabbit chew toys, most of which can be provided by the society. Please reach out to the foster team if you're interested in fostering Spruce!