Foster Candidates
Thank you for visiting our foster candidates page! Below is a current list of pets who need rehabilitation through our foster care program.
If you are a licensed Society foster volunteer, and you're interested in taking in one of these pets, please email us at foster@anticruelty.org. 
If you are not a current member of the foster team, but you would like to get involved, please visit our Foster Program page for additional details on how you can help.
We will update this page as often as we can, but we also encourage you to visit the Foster Facebook page for an updated list of who is awaiting placement. You can also email us at foster@anticruelty.org. Thank you!
Foster Candidates Awaiting Placement
Updated: 1/26/20 at 4:00 PM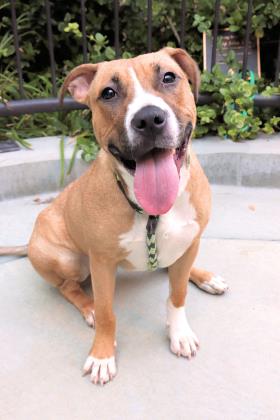 Bella
Intake Date: 8/17/19
Age:
 10 months old
Reason for foster: Adoption Ambassador
Length of stay: 4-6 weeks
Date Listed: 11/13/19
Meet Bella! This beauty is in need of an Adoption Ambassador foster who will help her find her forever home. Bella is a very strong girl, and very energetic. She'll need someone strong enough to control her on the leash and active enough to keep her properly exercised.
She would also benefit greatly from some training as she's become bored at the shelter and is channeling that boredom into poor manners such as jumping and mouthing on the leash. Due to her high energy and jumping behavior, we wouldn't recommend her going into a home with children. She's very dog friendly, however, and perhaps having another dog in the home to teach her how to properly behave, and having someone to play with, could help calm her down.
Once calm and properly tired out, Bella is a real sweetie who enjoys treats and face kisses. Please reach out if you're interested in fostering Bella!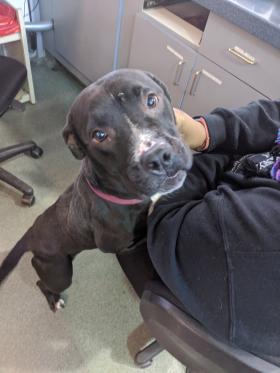 Red
Intake Date: 11/23/19
Age: 3 Years old
Reason for foster: Awaiting Rescue
Length of stay: 4-6 weeks
Date Listed: 12/23/19
Meet Red! This lovely lady is in need of a foster while she waits for a Rescue site to pick her up. Currently we do not have anything lined up for her so the longer the foster stay the better. Red is Heartworm positive and so she can't be overly stimulated while in the home. She needs to gain some weight which is super easy to do in a home environment, and she's overcoming a small bought of kennel cough which she's been prescribed medication for. 
Red was previously attacked by the dog she'd been living with and is very reactive towards other dogs currently because of that. She will need to be in a home without other animals, and preferably not in a home where there are many other dogs nearby. She'll need rest in a quiet environment where she can feel safe. 
We suspect that Red was not kept in the home previously, and so she's quite scared of things like the TV and will growl at it. With enough time and the proper encouragement, she should be able to overcome these fears.
Red loves to snuggle, and in her previous foster home was noted to curl up with you on the couch and place her head in your lap. She also loves to meet new people, children included, and can get attached very quickly. 
Please reach out if you're interested in fostering Red!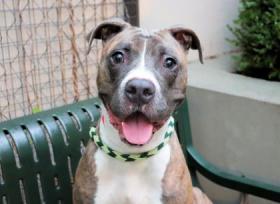 Bella
Intake Date: 9/22/2019
Age: 4 Years old
Reason for foster: Adoption Ambassador
Length of stay: 4-6 weeks
Date Listed: 1/08/20
Say hello to Bella!  Bella is in need of an Adoption Ambassador who can give her some time out of the shelter and in a warm and loving home. She's a real sweet girl who enjoys giving face kisses and meeting new people. Although she's lived with other dogs in the past, at this time we would not recommend her in a home with other animals.
Bella has a high prey drive, which extends even to vacuums and mops, so she shouldn't go to a home with cats or other small animals. She'll also need a strong foster parent who will be able to control on walks as she does tend to pull in her excitement to see the world.  When excited, she can get mouthy, so a home without young kids would be best. She is very sweet, and cuddly, and loves all sorts of toys. Bella would make a perfect couch companion, especially as the nights grow colder and the need for a snuggle buddy rises.
Bella has had a hard time adjusting to life in the shelter and has shown signs of boredom and stress. We would love to give her a place to decompress and catch up on some much needed sleep so she can return to her happy and bouncy self. Please reach out if you're interested in fostering Bella!