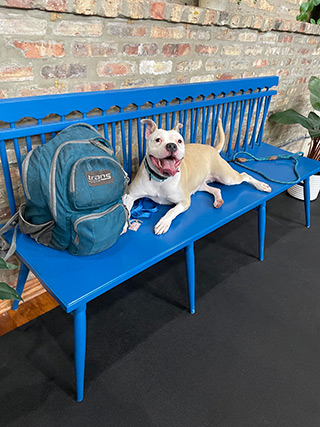 Dog Day Out is a new volunteer program designed to give our dogs a break from the shelter to experience fun, enrichment-filled field trips! Dog Day Out is an opportunity for anyone who wants some pup playtime.
Simply come by the River North shelter location and let the staff know that you would like to take one of our adoptable dogs on a day out. Our staff will work with you to select a dog and dog-friendly field trip location, like Bosly's Backyard. By taking out a DDO dog, you can help them get adopted too! You'll meet people who might be interested in adopting. Sharing photos and videos of your DDO dog with us helps us spread the word about them on social media.
Stop by the shelter or contact foster@anticruelty.org to learn more.
Bosly's Playtime Partnership: For a minimum of $40, you can purchase a time slot for an ACS dog to have a play session at Bosly's Backyard! This gives an adoptable pup the chance to run, play and get all that energy out of their system while they wait for their forever home. One of our staff or volunteers will take them on their Dog Day Out for a fun adventure thanks to you!