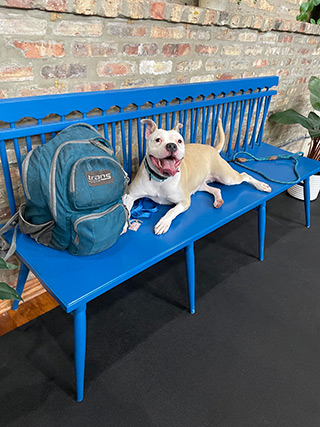 Dog Day Out is an initiative designed to provide shelter dogs a break from their kennel through community-based field trips! Animal lovers can put their compassion to action by taking a dog in our care out for an adventure beyond the shelter.

These half-day field trips are an excellent source of exercise and enrichment for our shelter canines and also provide participants with the chance to help a dog along their adoption journey! While enjoying a neighborhood walk, participants can introduce the dog to passerby, and can capture and share photos and videos of them online, helping to recruit prospective adopters.Interested in taking part? Here's how to get involved.Visit our River North location and let our team know that you would like to participate in the Dog Day Out project. We'll introduce you to eligible dogs and will provide you with handling tips and training to help make your outing a success.
Program Parameters:
Participants must be 18 years of age or older
Participants must complete training and waivers at the time of each field trip
Field trips have a maximum duration of 2 hours
Program Hours: Daily, 12–5 p.m.*
Program Location: 510 N. LaSalle
*Program availability is dependent on weather conditions, dog availability, and team member availability. Learn more by reviewing the Dog Day Out Training video below or contact us at adoption@anticruelty.org.
Bosly's Playtime Partnership: For a minimum of $40, you can purchase a time slot for an ACS dog to have a play session at Bosly's Backyard! This gives an adoptable pup the chance to run, play and get all that energy out of their system while they wait for their forever home. One of our staff or volunteers will take them on their Dog Day Out for a fun adventure thanks to you!