Join our Open Door Monthly Giving Club to save lives every day. 
As an ACS Open Door Monthly Giving Club monthly donor, you can do even more good by providing more: 
Emergency rescue
Safe shelter
Medical care
Loving families
Sign up by completing the form, left!
When you start your membership today, you can help animals like sweet Easel. 
---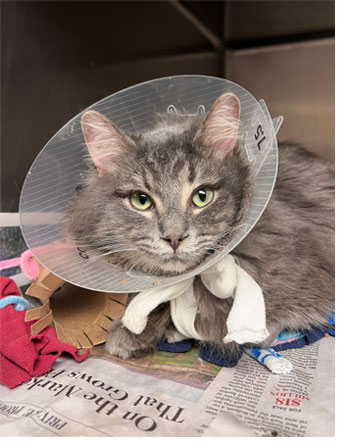 Easel 
Easel was found alone in an alleyway when he was just a vulnerable kitten. He was limping and in need of serious help. A Good Samaritan brought Easel to The Anti-Cruelty Society where he could get the care he needed. Unfortunately, Easel's injury to his back left leg was unable to be fixed and in order to give him the best quality of life, amputation was decided by our veterinary team. Learning how to live life on three legs didn't slow this feline down one bit! Easel won over every human he met during his stay at ACS due to his sweet and cuddly nature. One clinic staff member became so connected with Easel that she knew this cat was meant to be a part of her family…so she adopted him! Easel now lives in a loving home with the human that helped him get back on his feet.  
---
Matching Gifts
Does your company match donations made to charitable organizations? If so, check with your Human Resources department on how to double your gift to The Anti-Cruelty Society. Questions? Email our Development team.