Join our Open Door Monthly Giving Club to save lives every day. 
As an ACS Open Door Monthly Giving Club monthly donor, you can do even more good by providing more: 
Emergency rescue
Safe shelter
Medical care
Loving families
Sign up by completing the form, left!
When you start your membership today, you can help animals like sweet Olive. 
---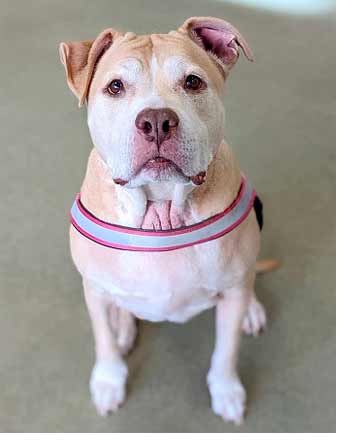 A True Love Story 
Olive was originally adopted as a puppy from us almost 10 years ago, but unfortunately her owner fell ill and had to surrender her recently. It's not easy to find a home for a senior dog, let alone a large pooch who weighs 78 pounds, but we were able to care for her medical, shelter, and food needs while she waited for her forever home. Our staff fell in love with this gentle beauty with a sparkling personality but were thrilled to see her find her forever home after being featured on a Betty White segment by NBC5. Her new family choose her middle name as Betty to honor the legendary animal lover's life. Help pets like Olive stay comfortable and healthy while they await their forever homes.  
---
Matching Gifts
Does your company match donations made to charitable organizations? If so, check with your Human Resources department on how to double your gift to The Anti-Cruelty Society. Questions? Email our Development team.