LOCAL ANIMALS NEED HELP 
Give food and care to a pet like Bailey.
As an ACS Open Door Monthly Giving Club monthly donor, you can do even more good by providing more: 
Emergency rescue
Safe shelter
Medical care
Loving families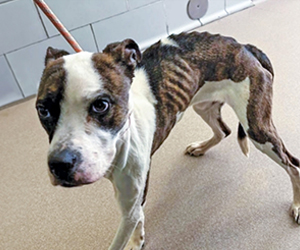 Bailey arrived at The Anti-Cruelty Society's Animal Resource & Admissions office as an owner-guardian surrender. She was frightened, emaciated, and it was clear that she was in dire need of help. As an open-admission shelter, we accept all animals who come through our doors.
Bailey immediately started receiving BEST Care. Our veterinarians provided Bailey with rabies and distemper vaccines, a nail trim, a microchip, and specialized medical care. Our animal advancement team made sure that Bailey received daily enrichment and out of kennel time, including toys, courtyard walks, and quiet time.
In line with our guiding principle to provide the BEST Care for animals, we are consistently assessing the needs of our animals. The stress of shelter life often calls for animals to enter our foster care program. Bailey quickly adjusted to a comfortable foster home, and in a few months of loving care, gained healthy weight for her size and built confidence and personality that made her shine.
Soon enough, Bailey found her forever home and was adopted. Through the dedicated care and commitment of staff and volunteers, the journey to BEST Care for Bailey was made possible.