Join the Foster Revolution
Join the foster revolution by becoming an Adoption Ambassador with The Anti-Cruelty Society! You can become an animal's foster parent and talent agent to help them make the ultimate love connection: adoption.
How does it work?
The Anti-Cruelty Society's Adoption Ambassador program connects shelter animals with foster families to provide them with home-based care while working to recruit an adopter. Foster parents are trained in general animal care, foster promotion, and adoption procedures to become the ultimate animal matchmaker. Our goal is to have each Adoption Ambassador find their foster animal a home within 4-8 weeks of entering their care. It's our way of empowering people like you to make a real difference in the life of a shelter pet. Viva la foster revolution indeed! A special thanks to the ASPCA for supporting this program with their generous grant funding.
 
How do you get started? We're so glad you asked!
Complete our general foster program application and indicate "Adoption Ambassador" as your area of interest. Someone from our Community Programs team will then get in touch with you to schedule a one-on-one foster orientation. Once complete, you'll have the opportunity to put your training to the test by bringing home your first foster pet!
 
This is a huge responsibility – what does The Anti-Cruelty Society do to help?
As with our traditional foster program, The Anti-Cruelty Society provides all foster parents with on-site medical and behavioral support, as well as some basic pet care supplies. In addition, Adoption Ambassador fosters also receive a life-sized cut-out of their foster to display at their workplaces or with one of our community partners, an Adoption Ambassador t-shirt and tote bag, "adopt me" vests and collars, and other customized promotional materials for their specific foster animal. Adoption Ambassadors also have the chance to bring their foster pets to special media and adoption events. All animals in the program are listed on the Society's main adoption page and are featured on our various social media platforms. Though the main effort is up to the Adoption Ambassador, we're here to support and cheer you on!
 
Ready to jump in?
Complete our foster program application and send it to foster@anticruelty.org. We'll reach out to get your training scheduled, so you can start making those love connections as soon as possible. Thank you for joining us!
Featured Adoption Ambassadors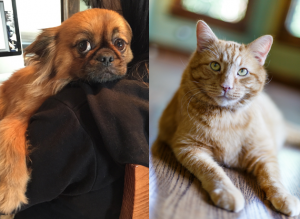 Angela John
Angela John has been a foster with The Anti-Cruelty Society since 2000 and recently joined the Adoption Ambassador effort. A graphic designer by day, Angela spends her free time fostering shelter pets while also volunteering on-site in our clinic physical exam program. Angela also enjoys water gardening and caring for her owned dogs and cats.
When asked about what drew her to the Adoption Ambassadors project, Angela writes, "I get to know all about my foster such as if he's good with other animals, if he's shy or outgoing, independent or needy. I can then find a home and adopter that is a good match. It's very rewarding to see a foster go to the "perfect" home and then be able to follow up to ensure a smooth transition all while avoiding another shelter stay."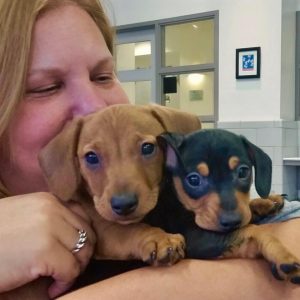 Erika Sensnovis
Erika Sensnovis has been volunteering both on-site and in our foster program since 2010 and became one of our very first Adoption Ambassadors. Thanks to Erika's smooth adoption matching skills she has placed over 40 animals in homes through her efforts. When asked why she loves this program so much, Erika writes, "I participate in the Adoption Ambassador program to help our puppies and dogs take a break from shelter life, learn about their personalities and match them with the appropriate adopter. So many want to keep in touch and share their pups lives which is so rewarding!"
When she's not busy caring for her fosters, or socializing shelter pets on-site, Erika works in marketing for a global manufacturer. "I love working with people and animals and my foster/volunteer life balances that and vice versa." Erika also enjoys spending time with friends and family, traveling, cooking, reading and snapping photos of all of the above.
We are so grateful for the dedication and commitment of foster volunteers like Angela and Erika to the Adoption Ambassadors program!