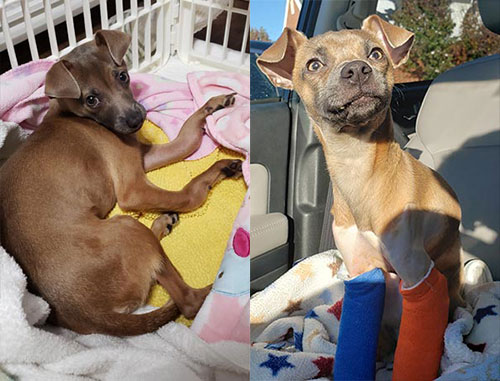 Ricky is an 8-month old pup with super high energy as is typical of a young dog. All was great until the day he got into a catastrophic accident and badly broke both of his front legs. He was rushed to an emergency veterinarian but the cost to fix his broken bones was too high for his parents to pay. 
But they were desperate to find him help so they turned to The Anti-Cruelty Society and surrendered him to us. We found a partner—Buffalo Grove Veterinarians--an orthopedic veterinarian practice that worked with us to mend his broken bones. The cost, however, was significant!
PLEASE HELP us care for this young pup and help him through the months of healing and therapy to regain use of his legs. We have invested over $8,000 in his care and we need your help to cover these costs. 
Ricky is such a special guy and we know he will respond to all of the love and support so anyone who donates to his care will be invited to a RICKY PARTY when he is well enough to socialize. Isn't a bit of support worth the chance to meet this sweetie?!?
Your donations are most appreciated as we continue to care for Ricky and prepare him to find his new forever home.