It is normal to feel grief and mourn the loss of your beloved pet. To most pet owners, the pet is considered a member of the family. There are several stages of grief (denial, anger or guilt, bargaining, depression, and acceptance), but not everyone experiences all of them or in the same order.
There is no right or wrong way to grieve; there is only your way. It is very important to remember that some people with the best of intentions may say some inappropriate things in an effort to help. If you are having a difficult time in accepting your pet's death, you may want to discuss your feelings with someone trained to understand the grieving process, such as a grief counselor, clergyman, social worker, physician, or psychologist.
The Anti-Cruelty Society offers a free, virtual group program, called "Working Through Pet Loss." The group meets virtually via the video app Zoom, monthly, from 6–7:30 p.m. CST. The group is led by trauma and grief counselor, Yvette Camacho, LCPC. Once you complete your reservation, you will receive an email with the Zoom website link to join the video meeting. 
The Chicago Veterinary Medical Association also offers a pet loss support group called Wings. Click here for more information about their program.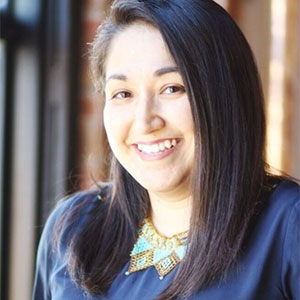 Meet Our Facilitator
Yvette Camacho
Yvette was born and raised in Chicago and grew up in Little Village in the south west side of the city. Her Mexican heritage played a big role in her upbringing and has shaped who she is as a person and as a professional. Yvette attended the University of Illinois at Chicago, earning a bachelor's degree in Applied Psychology with a minor in Sociology. 
In 2008, she volunteered with Americorps as a Health Educator for Erie Family Health Services. She then earned a master's degree in Clinical Counseling from The Chicago School of Professional Psychology, and majored in Latino Mental Health.
In 2010, Yvette began to work as a licensed professional counselor with non-profit agencies providing therapy to children and families who have witnessed or experienced violence or trauma. She partnered with Chicago Public Schools to facilitate groups focused on mindfulness and social-emotional well being for children in kindergarten through second grade. One of her current ambitions is to expand her line of work into animal-assisted therapy and in 2013, received a certification in animal-assisted activities. Her current furry companion is a black Labrador Mix breed named Oso.
In 2011, Yvette personally experienced the loss of someone very special to her: her dog Echo. When her beloved furry companion died, she had to process the loss of a pet first-hand, and attended The Anti-Cruelty Society's pet loss support meetings. Transitioning to counselor of our program, she wished to continue the healing process for others who have also experienced the death of their beloved animal companion. In 2018, she transitioned to her role as Lead Counselor and Educator at SOL Wellness and Healing.