About The Event
Help local homeless, lost, and abused pets by donating to Sherman & Tingle's 7th Annual Operation Santa Paws.
The Anti-Cruelty Society has teamed up with The Drive's Sherman & Tingle to help furry friends in need with the 7th Annual "Operation: Santa Paws!" to collect new pet toys, treats, food, and cash donations for those animals who don't have homes or families for the holidays.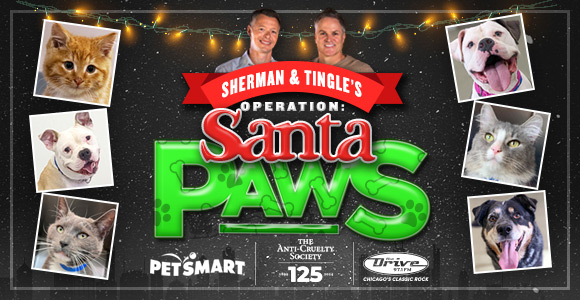 Join us and drop off donations at The Drive's Sherman & Tingle show LIVE Saturday, December 2 from 9 a.m. to 1 p.m. at the PetSmart located at 2221 Oakton Street in Evanston!  The Drive and staff from The Anti-Cruelty Society will be on-site all morning collecting items for pets in need. Imagine the simple joy a new toy could bring to a pup or kitty's eyes on Christmas morning.  For our four-legged friends, it's often the smallest gestures that mean the most.

Thanks in advance for helping pets in need with The Anti-Cruelty Society, PetSmart, and 97.1 FM The Drive - Chicago's Classic Rock!
Event Details
| marketing@anticruelty.org
Disclaimer / Sponsors