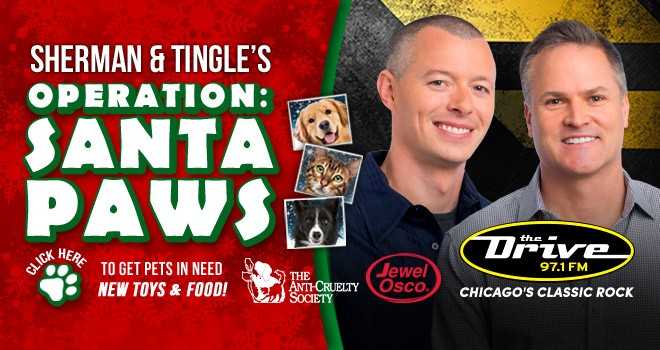 With the hustle and bustle of the holiday season, the needs of Chicagoland's homeless, lost and abused pets often get overlooked.   
The Anti-Cruelty Society has teamed up with The Drive's Sherman & Tingle to help furry friends in need with the 7th Annual "Operation: Santa Paws!" to  collect new pet toys, treats, food, and cash donations for those animals who don't have homes or families for the holidays.
Each year, The Anti-Cruelty Society helps thousands of pets and their humans throughout the Chicago area through adoptions, veterinary programs, investigations and rescue, behavior support, education, and more. Since the pandemic, ACS has also provided significant safety net services for people in need providing emergency sheltering for animals and over 700,000 free pet meals. As Chicago's oldest and most comprehensive shelter, ACS is an open door to compassion and is committed to help pets and people thrive together. Your support helps ACS care for more than 20,000 animals each year.
Ways To Help:
(1) Join The Drive's Sherman & Tingle show LIVE Saturday, December 10 from 10 a.m. to 5 p.m. at the JEWEL located at 1151 S. Roselle Road in Schaumburg!  The Drive will be on-site all day collecting items for pets in need.
(2) Use the form to donate to The Anti-Cruelty Society today!
Imagine the simple joy a new toy could bring to a pup or kitty's eyes on Christmas morning.  For our four-legged friends, it's often the smallest gestures that mean the most. Thanks in advance for helping pets in need with The Anti-Cruelty Society, Jewel, and 97.1 FM The Drive - Chicago's Classic Rock!