About The Event
Join us in 2022 as we head back to the PARK on Saturday, May 21 at Soldier Field
BARK will be held RAIN OR SHINE!
The Anti-Cruelty Society's 28th Annual BARK (formerly BARK in the Park and BARK from the Heart) is Chicago's oldest dog-friendly, outdoor fundraiser for the whole family! More than 1,200 dog lovers, canine companions, and people who want to help animals in need, will raise $150,000 to support The Anti-Cruelty Society's mission. We welcome all dog lovers, including our adopters, foster families, and friends in celebrating The Anti-Cruelty Society's 123-year-old history and community of caring. 
Participants form teams and raise money while enjoying a morning with other animal lovers. The event begins with a 2.5 walk along Chicago's beautiful lakefront, followed by the best pup-party in town with food, micro music festival hosted by Aspire Healthy Energy Drinks, beverages, family activities, and dog-friendly demonstrations.  
THE DATE 
Saturday, May 21, 2022 from 8:00 a.m. to 1:00 p.m.
THE PLACE 
Soldier Field at The Stadium Green—just steps from Lake Michigan 
ACTIVITIES 
Begin with a 2.5 mile walk along Chicago's beautiful lakefront. After the walk, pups and people can participate in a variety of fun activities including dog-friendly demonstrations, canine agility courses, product samples, dog massages, and family-friendly crafts. We hope you came hungry this year! We have exciting food and drink options for you to check out. All food items are FREE! No tickets are needed for food. It's a first come, first serve basis and you can find them throughout the event space. 
Featured Drinks: 
Beer! Miller Lite products is available at the beer tent starting at 10 a.m. Your first beer is free, you can get more beer tickets for a donation at the beer tent! 
Coffee from Starbucks and don't forget to order a puppaccino for your furry friend! 
If you're looking for a non-alcoholic beverage visit our Athletic Brewing tent near the entrance or Aspire Healthy Energy Drinks in the BARKetplace.  
Some of the free food items include: 
Bacci Pizza 
Portillo's chocolate cake 
Go-Go Squeeze 
Corey's Bagel Deli Bagels 
Thank you to all of our BARK food and drink partners! 
There are tons of activities with all kinds of fun things going on for you and your pup: 
Thanks to our friends at Aspire, we have a mini music fest going on throughout the event with a variety of performers. Grab a blanket and enjoy the music!
The ever popular Tucker Pups agility course is back! Visit them and put your dog's athletic skills to the test! 
Check out dog training demonstrations with Midnight Circus.
You can get spa treatments for your pooch, dog tattoos, and ice baths located in the Zen Den. 
Visit the pawprints tent to create a keepsake.  
The photo booth is here to snap photos near the food area! 
Visit a host of other folks in our Barketplace, including our ACS booth where you can find some iconic ACS swag.
Our MC's! 
Thanks to our MC's who are joining us for this event:
Roz Veron, ABC7
Hosea Sanders, ABC7
Steve Tingle, WDRV The Drive 97.1
Steve Dale, WGN and Steve's Pet World
Get excited for all of this, and MORE!
Register for BARK now!

Need help getting started?

Interested in Sponsorship Opportunities?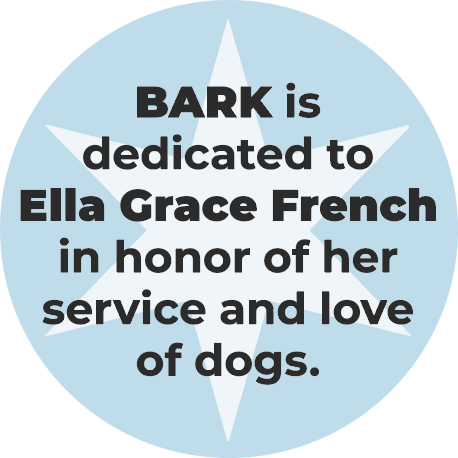 Event Details
Stadium Green at Soldier Field
1410 Museum Campus Dr., Chicago, Illinois 60605
Stadium Green at Soldier Field
Stadium Green at Soldier Field
1410 Museum Campus Dr.
Chicago, IL 60605
United States