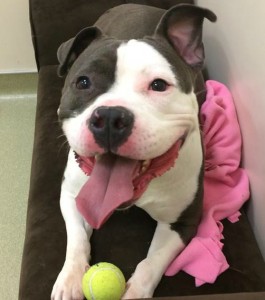 One of the biggest animal welfare issues in the city of Chicago is the overabundance of unaltered (i.e., not spayed or neutered) cats and dogs that regularly repopulate a city shelter system already overburdened with animals.
No animal is more heavily represented among the city's unaltered population than the pit bull or pit bull-type dog, which already faces a significant amount of discrimination thanks to the social stigmas surrounding the breed. In order to successfully adjust the negative narrative surrounding these dogs, we must take direct action to help control the pit bull overpopulation problem.
Spay/neuter outreach has been a major component of The Anti-Cruelty Society's mission for decades, and we are ramping things up with a new service learning project called "Pittie City"to help get the word out about our $60 spay/neuter promo for pit bull type dogs.
To expand awareness about this deeply discounted service, the Society has developed a 10-hour Service Learning project for local high school students, or anybody who needs to earn some community service credit. This project requires completing the following steps:
Begin by researching the issues of pit bull discrimination, pet overpopulation, and the benefits of spay/neuter (The Anti-Cruelty Society can provide some resources, but you must also do research on your own).
Use the information that you find to make a fact-based educational handout to convince pit bull owners around Chicago that it is important to have their dogs altered. Include a note about the $60 spay/neuter promo. This handout must then be sent to the Society's Community Programs Department for approval before it is distributed. 
You will then share 30 of your handouts with the owners of unaltered pit bulls in an attempt to explain the benefits of having their dogs spayed or neutered. You can also leave copies of the handouts and vouchers at appropriate locations around your neighborhood.
Once you have successfully handed out all of your fliers, you will write a one-page reflection essay about your experience.
Then, attend one of our Teen Drop-In events with a copy of your handout, your essay, and any paperwork you need signed by a Society staff member to validate your Service Learning hours.
If you are interested in this service learning project, you are more than welcome to get started on your own and do not need to contact The Anti-Cruelty Society until you've completed the first draft of your handout. However, you are welcome to reach out to us in advance if you have any questions or concerns about the project.
When it comes time to contact the Society for any reason, please reach out to our Community Programs Coordinator by email at teens@anticruelty.org or by calling 312-645-8095.