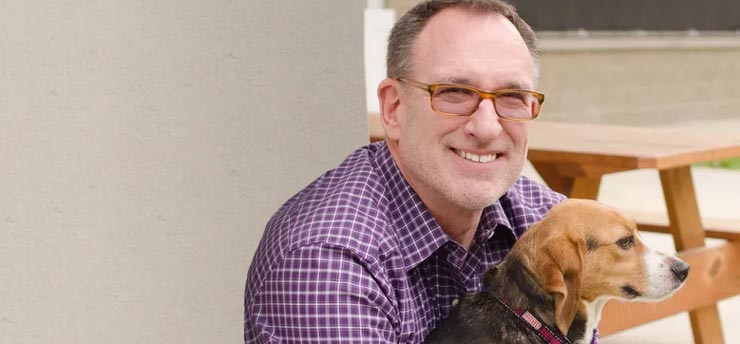 Tracy Elliott joined The Anti-Cruelty Society as President in February, 2019. He came to the Society from Asheville, North Carolina, where he was the Executive Director of the Asheville Humane Society for nearly four years. Tracy brings more than 30 years of administration expertise in both for-profit and non-profit organizations, including 16 years in executive director roles at different organizations.
Born and raised in a small town in Indiana, Tracy said his family was a bit "animal crazy" and he was taught to show compassion for all animals. His work at the Asheville Humane Society focused on brand clarity and strategic initiatives to enhance core sheltering and adoption services and also to expand services for pets, and their people, into economically-challenged neighborhoods to keep pets safe and healthy with the families who love them. The program attracted national attention for its work in public housing neighborhoods in cooperation with the Housing Authority of the City of Asheville.
Prior to his work with Asheville Humane Society, Tracy was the chief executive officer of College Mentors for Kids, an organization working with 26 colleges and universities across the United States. For five years, Tracy was the executive director of AID Atlanta, the largest and most comprehensive AIDS service organization in the Southeast. He also served as executive director of The Damien Center, a nonprofit HIV/AIDS organization in Indiana and he spent 13 years as a banker at First Source Bank in South Bend, Indiana.
Tracy holds a bachelor's degree in history from Harvard University and a master's degree in nonprofit management from the University of Notre Dame.