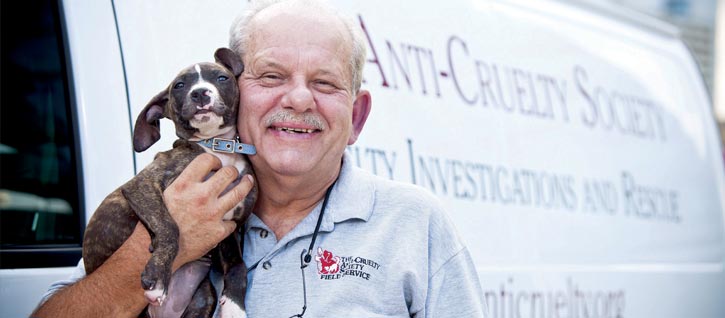 The Anti-Cruelty Society and Chicago's animal welfare community lost one of its heroes. William (Uncle Bill to the animals and his friends and colleagues) Caprio, 68, passed away on February 3 after a short battle with cancer. Bill was a champion for Chicago's homeless, neglected, and abused animals. He was never afraid to stand up and fight for those who did not have a voice. Over his four decades of service, the past 12 as a field investigator with The Anti-Cruelty Society, Bill demonstrated perseverance and hope, even in the face of the most heartbreaking circumstances.
Bill always worked tirelessly to help animals and their people. "When he found animals uncared for because their people could no longer care for themselves, he worked with agencies to make sure they got what they needed not only to survive but to thrive," said David Dinger, Acting President of The Anti-Cruelty Society. "Bill was a hero to thousands of animals who can never say thanks and he has been an inspiration to many in the field."
"The affection he expressed to the animals he met in the field or the ones at our shelter who received his love and affection—attention that could have been reserved for his own pets," said Dotty Cowles-Newton, Field Services Manager at The Anti-Cruelty Society. "But for Bill, he protected the many faces he was responsible for by bringing them to safety."
Bill Caprio left a legacy behind—one that impacted not only his friends and colleagues but thousands of animals and their families. His heart and compassion will be greatly missed by animals and humans alike.
Donations in his memory can be made to the Uncle Bill Caprio Fund to be used to support humane investigations and the work of The Anti-Cruelty Society. Click here to make a donation.