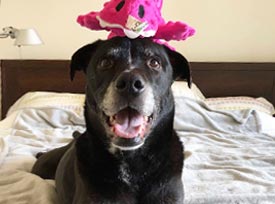 Five-year-old Mack arrived at the Society in January and is currently in a foster home to help him open up to new people and experiences. Able to see through his shy demeanor into his fun-loving side, his foster Silvia Stangalino has offered her home and heart to Mack while he awaits adoption. Through Instagram (@mack_the_sensitive_) and Facebook (@MackTheSensitive) pages, Silvia hopes to show Mack's sensitive but sweet personality to encourage potential adopters. Posts show off Mack snuggling with his foster parent in bed, playing in the snow, learning to give his paw, and enjoying the tasty peanut butter treats. His profiles emphasizes his love of walks, cuddling, other dogs and humans, and his need for a quiet home.
If you or somebody you know is interested in learning more about Mack, please email adoptmenow2019@gmail.com to set up a time to meet him. We are extremely thankful for fosters like Silvia who work hard to find homes for deserving pets, and hope Mack finds his forever home soon.
"Fostering Mack has been wonderful! The shy dog I met at The Anti-Cruelty Society a month ago has revealed himself to be a lovely couch potato, simply perfect at home and on the street, and house-trained," says his foster, Silvia. "He loves belly rubs, long walks, and peanut butter."
The Anti-Cruelty Society's foster program helps animals in need find for various reasons from recovering from illness to giving them the extra tender, loving, care they need. To help support The Anti-Cruelty Society care for animals like Mack, visit anticruelty.org/donate.