The Anti-Cruelty Society turns 120!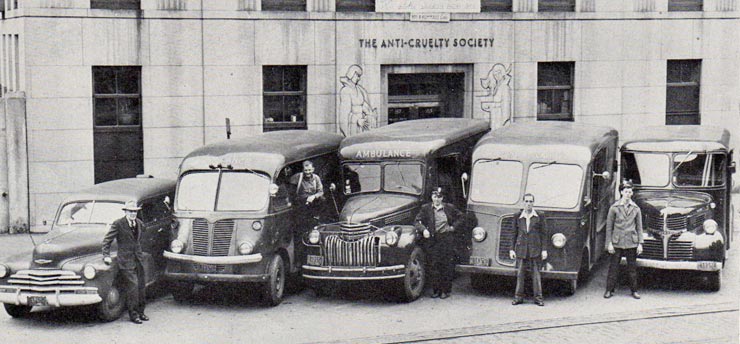 Mrs. Theodore Thomas and her friends founded the Society to suppress cruelty to animals, educate the public on humane treatment, and create a refuge for strays. Since then, the Society has been helping care for pets in need and putting compassion into action through comprehensive programming.
At 120 years old, The Anti-Cruelty Society is Chicago's oldest and most comprehensive animal welfare organization. Originally established to help work-horses in Chicago, the organization began its long history of helping animals and their humans in need. The Society opened the first animal Charity Clinic in 1916 at a time when veterinary facilities for small animals were almost nonexistent. The first humane investigator was hired in 1922 and the first humane educator was hired in 1937.
As needs grew and the Society took in thousands of animals, facilities expanded to provide more space, more services and more facilities.  Today, the Society continues its legacy to be an open door to any animal in need. While the needs of animals have evolved from placing water troughs around the city for horses to caring for homeless cats and dogs, offering low- or no-cost spay/neuter surgeries, the Society was founded on the idea that education on proper pet care for the public is important to keeping pets safe. This rings true today as the Society continues to offer educational opportunities to all people to help them care for their pets. To learn more about the Society's rich history, visit https://anticruelty.org/history.
As the Society celebrates its 120th anniversary of caring for and protecting animals, its commitment to the animals remains constant. Regardless of the changes that the Society has seen over the years, the mission of helping pets and educating people has been, and will always remain, the same. The Anti-Cruelty Society has relied on the generosity of donors to continue our work over the last 120 years. Be a part of the next 120 years and put your compassion into action by making a donation today. Click here to support The Anti-Cruelty Society's work to help animals in need.