The Anti-Cruelty Society President Announces Retirement After 10 Years of Service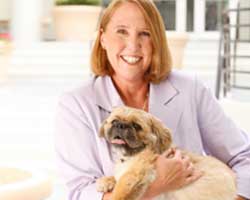 The Anti-Cruelty Society President Announces Retirement After 10 Years of Service
Board of Directors Announces Executive Search
CHICAGO – After 10 years of devoted service to The Anti-Cruelty Society as its president, Dr. Robyn Barbiers has announced her retirement effective December 31, 2018.  Leading Chicago's oldest, largest, and most comprehensive animal welfare organization, Dr. Barbiers joined The Anti-Cruelty Society as President in 2008.
Dr. Barbiers' accomplishments have made a significant difference in the programs and welfare of Chicago's homeless pets. Some examples include:
Enhancing The Anti-Cruelty Society's open admission policy so every animal has a chance of being adopted
Establishing a new state-of-the-art spay/neuter and low-income clinic
Improving the animal intake and rehabilitation centers, staff and volunteer spaces, and adoption counseling areas
Expanding networks including foster programs, rescue organizations, and adoption outreach increasing animal adoptions to nearly 6,000/yr.
Improving community engagement efforts reaching over 20,000 people/yr.
Dr. Barbiers has represented The Anti-Cruelty Society and the Chicago animal welfare community as a member of the City of Chicago Commission on Animal Care and Control as well as being an active member of The Association for Animal Welfare Advancement.  In addition, she also represents animal welfare on various regional disaster preparedness committees, which she came well prepared for in part due to her role as Vice President of Collections at Lincoln Park Zoo prior to assuming the leadership at The Anti-Cruelty Society.
"Dr. Barbiers has been a strong voice for animals during her 10 years at The Anti-Cruelty Society," says Martin Gross, Chairman, Board of Directors. "The significant changes she spearheaded at the Society as well as her work to expand the network to help more animals through partnerships and collaborations has resulted in providing needed care to more than 100,000 animals."
The Board of Directors will conduct a national search for Dr. Barbiers' successor. A job announcement will be released in the coming month.
About The Anti-Cruelty Society
Founded in 1899, The Anti-Cruelty Society is Chicago's oldest and largest, private, open-admission, unlimited stay humane society. With a mission of building a community of caring by helping pets and educating people, its comprehensive programs and services help over 50,000 animals and humans every year and include: adoption, charity veterinary clinic, low or no-cost spay/neuter clinic, cruelty investigations and rescue, humane education & community outreach, a free behavior helpline, dog training classes, S.A.F.E. program (short-term accommodations for emergencies), The Bruckner Rehabilitation & Treatment Center, the Virginia Butts Berger Cat Clinic, and the Dog Rehabilitation Center. For more information, visit www.anticruelty.org or call (312) 644-8338.