The Anti-Cruelty Society to Participate in BARK(ing) Spot Event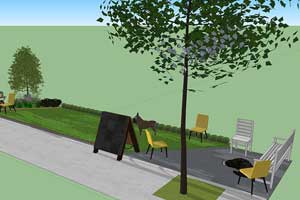 The Anti-Cruelty Society to Participate in BARK(ing) Spot Event
The Anti-Cruelty Society teams up with The Lakota Group to transform parking spaces into a dog-friendly urban oasis in celebration of PARK(ing) Day
CHICAGO—On Friday, September 21, landscape design and urban planning firm, The Lakota Group, will be transforming two parking spaces on the 100 block of West Illinois Street into a dog-friendly green space to celebrate PARK(ing) Day, a day dedicated to calling attention to the need for more urban open space. On this day, metered parking spaces across the world will be temporarily transformed into public places to re-examine the way urban space is allocated.
This year, The Lakota Group will be transforming parking spaces into a BARK(ing) Spot on West Illinois Street. The temporarily transformed space will feature landscaping, places to sit and play, as well as feature adoptable dogs from The Anti-Cruelty Society. The public is invited to stop by between 7 a.m. and 3 p.m. to enjoy this green space and meet dogs looking for forever homes. At 11:30 a,m., there will be a parade of puppies and dogs from The Anti-Cruelty Society at LaSalle and Grand to the BARK(ing) Spot on Illinois. The public is encouraged to visit to meet new fur friends.
"PARK(ing) Day is meant to re-examine the way urban space is allocated. The majority of space in our cities is dedicated to cars, with very little space dedicated to open space—for people and pets alike. As our cities continue to change, reducing the area allocated for private, empty vehicles will open an immense amount of space, and with it opportunities to make vibrant people-oriented places," says Kevin Clark, principal at The Lakota Group. "Our aim for BARK(ing) Spot Day is to activate this space for the day, to make it a place for people, pets, and fun interactions.
"The Anti-Cruelty Society was happy to partner with The Lakota Group to highlight the need for green spaces in Chicago—especially ones that provide a space for dogs," says David Dinger, vice president of operations at The Anti-Cruelty Society.
Interviews will be available with a spokesperson from The Anti-Cruelty Society or The Lakota Group on Friday, September 21, between 7 a.m. and 3 p.m. at the transformed parking spaces on Illinois Street between Clark and LaSalle Street. Please contact Colette Bradley at 312-645-8064 or cbradley@anticruelty.org to arrange interviews.
About PARK(ing) Day
PARK(ing) Day is a global celebration that engages people across the world to creatively activate parking spaces into people spaces, with concepts ranging from public health clinics to wedding ceremonies to spaces for dogs and people to hang out. The idea began in 2005 when a design studio named Rebar paid for a parking spot on a drab street in San Francisco and turned it into a mini park with grass, a tree, and a bench. The idea took off, and an open source, worldwide movement began. Every third Friday in September, people across the world creatively activate parking spaces.
About The Anti-Cruelty Society
Founded in 1899, The Anti-Cruelty Society is Chicago's oldest and largest, private, open-admission, unlimited stay humane society. With a mission of building a community of caring by helping pets and educating people, our comprehensive programs and services help over 50,000 animals and humans every year and include: adoption, charity veterinary clinic, low or no-cost spay/neuter clinic, cruelty investigations and rescue, humane education & community outreach, a free behavior helpline, dog training classes, S.A.F.E. program (short-term accommodations for emergencies), The Bruckner Rehabilitation & Treatment Center, the Virginia Butts Berger Cat Clinic, and the Dog Rehabilitation Center. For more information, visit www.anticruelty.org or call (312) 644-8338.
About The Lakota Group
For over 25 years, The Lakota Group has completed award-winning projects in more than 500 towns and cities across the country, gaining recognition for its work in planning, urban design, landscape architecture, historic preservation and community engagement. They have designed numerous parks across the Chicagoland area—from neighborhood playgrounds to entire park district comprehensive plans. Through every aspect of the process, the firm incorporates innovative, sustainable design, and extensive community input. This is the first PARK(ing) Day activation for The Lakota Group and they chose to partner with one of their favorite River North neighbors to raise the awareness for the need for green space (and dogs) in Chicago.