Art of Rock & Roll Combines Pets and Classic Rock to Help Animals
The Anti-Cruelty Society is partnering with 97.1 FM, The Drive, for a new fundraiser that combines pets and classic rock. The Art of Rock n' Roll features classic rock album covers that have been recreated as pet parodies. The framed artwork is being auctioned online to raise money for The Anti-Cruelty Society's animals. Bidding starts June 21 and ends at June 28 at 5 p.m. 
Four talented staff members from the Society recreated six iconic album covers from the 70s and 80s with guidance from The Drive's DJs Sherman and Tingle. 
The album art parodies feature classic rock albums from the 70s and 80s with a pet-centric twist. Featured rock stars include Elton John, AKA Elton Paw; Tom Petty, AKA Tom Kitty; and The Rolling Stones, AKA The Roving Bones.
The albums' covers have been creatively modified to focus on pets:
Rescued in the U.S.A., Boston Bonesteen; Bruce Springsteen, Born in the U.S.A. 
Elton Paw-n Greatest Kits; Elton John, Greatest Hits, 1970-2002
HISS, Furry; KISS, Dynasty
Tom Kitty, Full Meow Feline; Tom Petty, Full Moon Fever
Pets, Treats Please; Queen, Hot Space
The Roving Bones, Some Dogs; The Rolling Stones, Some Girls
The Art of Rock n' Roll fundraiser opens June 21 at midnight and runs through June 28 at 5 p.m. To view the artwork and bid, visit anticruelty.org or https://artrock.givesmart.com.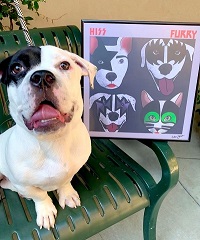 About The Anti-Cruelty Society
Founded in 1899, The Anti-Cruelty Society is Chicago's oldest and largest, private, open-admission, unlimited stay humane society. With a mission of building a community of caring by helping pets and educating people, its comprehensive programs and services help over 50,000 animals and humans every year and include: adoption, charity veterinary clinic, low or no-cost spay/neuter clinic, cruelty investigations and rescue, humane education & community outreach, a free behavior helpline, dog training classes, S.A.F.E. program (short-term accommodations for emergencies), the Bruckner Rehabilitation & Treatment Center, the Virginia Butts Berger Cat Clinic, and the Dog Rehabilitation Center. For more information, visit anticruelty.org.