Anti-Cruelty Society Connects Adoptable Pets with Loving Homes during PetSmart Charities® National Adoption Week, February 28-March 6
Each year, more than five million pets enter animal shelters in need of loving homes. The Anti-Cruelty Society is proud to partner with PetSmart Charities® to bring adoptable pets to the Everyday Adoption Center in the South Loop PetSmart and four Chicago area partner PetSmart locations in support of National Adoption Week, taking place February 28 – March 6, 2022.
During the in-store event, The Anti-Cruelty Society invites potential pet parents to meet adoptable pets in their area. Opportunities will be given to connect and spend time with cats and dogs in need of loving homes. Staff and volunteers will help potential adopters find a great pet match and share information about caring for a pet, as well as and the types of tools, products and services they may need.  
Cats, dogs and small animals are available for adoption on a drop-in basis at the Society's Everyday Adoption Center in the South Loop PetSmart. The Society's PetSmart partner locations in Andersonville, Evanston, Kingsbury and Wrigleyville feature adoptable cats and the opportunity to drop in and adopt on the same day. Fees will be waived for all animals at all PetSmart locations on Saturday, March 5.
To view available pets for adoption, visit anticruelty.org/adoptable. The Society's River North Adoption Center on 510 N. LaSalle in Chicago will be closed on Saturday, March 5 to allow staff and volunteers to assist with the fees-waived event at all PetSmart locations. 
Mittens, an available two-year-old female cat, was surrendered when her owner was overwhelmed with too many animals. This petite feline has severely impaired vision but is able to function quite well with a few accommodations such as not moving her litterbox or food and water.  Mittens is considered a special care adoption since she will need a patient family to allow her to adjust to a new environment and may require continued care with a private vet. Drop in to adopt Mittens at the Society's Everyday Adoption Center in the South Loop PetSmart.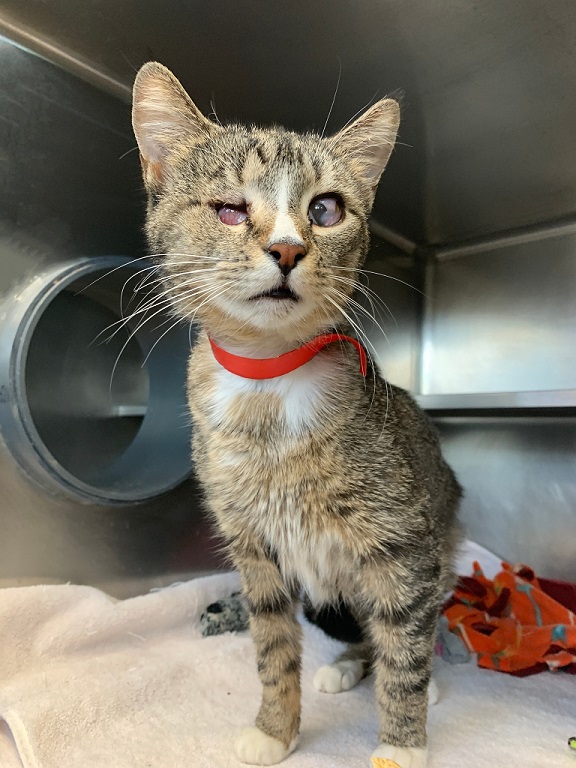 "National Adoption Week is an ideal opportunity to give a pet what they need most – people to love," said Heidi Fulcher, Adoptions Grant Manager at PetSmart Charities. "Over the years, together with local partners such as The Anti-Cruelty Society we've matched more than 9.5 million pets with loving homes. Most pet parents say their pets are important family members that enhance their lives, too. That's a win-win!"
WHERE: 
Adoptable pets will be available at the following Chicago area PetSmart locations:
The Anti-Cruelty Society's Everyday Adoption Center in the South Loop PetSmart
1101 S. Canal St. Chicago, IL 60607
PetSmart Andersonville
5210 N. Broadway St. Chicago, IL 60640
PetSmart Evanston
2221 Oakton St. Evanston, IL 60202
PetSmart Kingsbury
1415 N. Kingsbury St. Chicago, IL 60642 
PetSmart Wrigleyville
3740 N. Halsted St. Chicago, IL 60613 
About The Anti-Cruelty Society
Founded in 1899, The Anti-Cruelty Society is Chicago's oldest and largest, private, open-admission, unlimited stay humane society. With a mission of building a healthy and happy community where pets and people thrive together, its comprehensive programs and services help over 50,000 animals and humans every year and include adoption, charity veterinary clinic, low or no-cost spay/neuter clinic, cruelty investigations and rescue, humane education & community outreach, free behavior helpline, the Bruckner Rehabilitation & Treatment Center, the Virginia Butts Berger Cat Clinic and the Dog Rehabilitation Center. The Anti-Cruelty Society provides community support to keep people and their pets together through safety net services such as the pop-up pet food pantry program, wellness fairs, emergency pet boarding, senior citizen pet owner support and community education programs. Its vision is to build a more humane Chicago for pets and people. For more information, visit anticruelty.org. 

About PetSmart Charities®
PetSmart Charities is committed to making the world a better place for pets and all who love them. Through its in-store adoption program in all PetSmart® stores across the U.S. and Puerto Rico, PetSmart Charities helps up to 600,000 pets connect with loving families each year. PetSmart Charities also provides grant funding to support organizations that advocate and care for the well-being of all pets and their families. Our grants and efforts connect pets with loving homes through adoption, improve access to affordable veterinary care and support families in times of crisis with access to food, shelter and emergency relief. Each year, millions of generous supporters help pets in need by donating to PetSmart Charities directly at PetSmartCharities.org, while shopping at PetSmart.com, and by using the PIN pads at checkout registers inside PetSmart® stores. In turn, PetSmart Charities efficiently uses more than 90 cents of every dollar donated to fulfill its role as the leading funder of animal welfare in North America, granting more than $500 million since its inception in 1994. Independent from PetSmart LLC, PetSmart Charities is a 501(c)(3) organization that has received the Four-Star Rating from Charity Navigator for the past 18 years in a row – placing it among the top one percent of rated charities. To learn more visit www.petsmartcharities.org.