The Anti-Cruelty Society 2020 Holiday Cards are available to purchase now! 

Help support animals in need by purchasing holiday cards from The Anti-Cruelty Society. Holiday cards are available in a variety pack of 12: each pack is made of up of 3 dog and 3 cat illustrations—2 of each illustration—with 12 white envelopes. $15 includes shipping.

12/11/20:
A limited number of holiday cards are available for sale at the LaSalle Adoption Center for $12 per pack. Please call ahead to ensure we can fulfil your order, 312-644-8338. Thanks for your support! 
Inside message: 
Wishing you HEALTH & HAPPINESS
The Anti-Cruelty Society Community Cookbook is available for purchase now!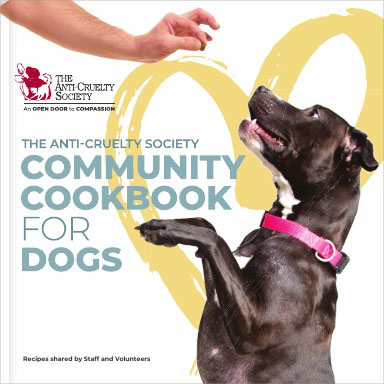 Help animals in need by ordering a print copy for $14.99 or an eBook for $8.99. Soft-cover books will be shipped directly from the printer, and purchases of the eBook are available to download within moments!
Click here to purchase the cookbook!