Directory Image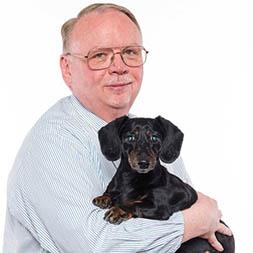 Dan Overstreet
Title
Vice President of Business Administration & Finance
Full Bio
Dan Overstreet directs The Anti-Cruelty Society's administration and finance units providing leadership in the areas of accounting, finance, budgetary operations, financial reporting, human resources, information technology, risk management, employee benefits and external business operations.
Since joining the Society's management team in February of 2009, Dan has implemented a comprehensive accounting and budgetary system along with financial and operational policies and procedures. These are aimed at attaining financial integrity, transparency, efficiency, timely reporting and accurate analysis of financial data. He has also directed the augmentation and strengthening of the Society's data and communications infrastructure. In concert with the Human Resources Manager, a complete re-write of the Employee Policy Manual and Employee Safety Manual has been achieved as well as operational policies and procedures reflecting best practices in not-for-profits.
Additionally, Dan has worked with the IT Specialist, to introduce the Society's first intranets for both staff and volunteers. The intranets are on-line for staff and volunteers to view news and events specifically for them and a repository of documents and forms used in the Society.
Since 1977, Dan has worked in numerous and varied not-for-profit organizations. Specializing in the design and implementation of accounting, budgetary and planning systems, he has designed or re-designed six integrated systems in the not-for-profit environment. He is also proud of mentoring a number of junior professionals enabling them to take on progressive responsibility.
Dan holds a Bachelor of Science degree in Accounting as well as a Masters of Business Administration degree in Corporate Finance and MIS.