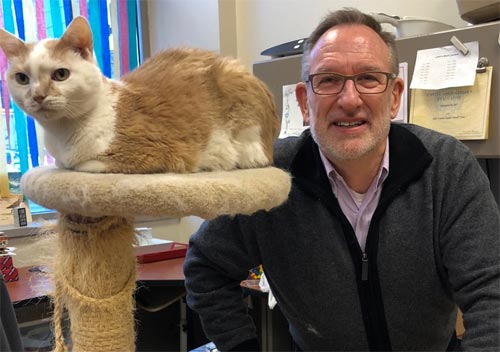 Well, it has been sort of busy around The Anti-Cruelty Society. Last week, this new guy joined the Society family. His name is Tracy Elliott and he is the new president of The Anti-Cruelty Society. It is a big deal to have a new human around. Now, I know he has two dogs at home but he still says he likes cats and he was nice to me and my friend Mr. Kelly so I guess he can stay awhile.
So here's the scoop on him. He used to hang with the animals at the Asheville Humane Society in North Carolina. Now, I am not sure but I think their weather is a bit better than winter in Chicago but it is nice a toasty where I spend all of my time so I am sure he will be ok too. He was their Executive Director and by all accounts, he did some pretty cool stuff while he was there.
He worked on some big picture stuff like branding and strategy (which I am told is important) but he also helped people keep their animals in their homes—especially for those who live in areas that are what is called economically-challenged neighborhoods. In any case, he is all about making sure the animals are cared for. And that is just what we want here at The Anti-Cruelty Society.
I am sure Tracy will be making the rounds to visit with all sorts of people and I am sure he might even stop by every so often and visit with me and Mr. Kelly. In any case, I know he will help us do what we all do best here as we care for and protect animals in need. I was in need once…but now I have  what I need—love, food, a soft bed, toys, catnip, scratches and my good buddies hanging around.
Life is good. You'll like the new guy. He is pretty cool.
Peace out,
Guy