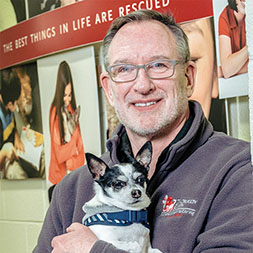 I am excited to be in this great city, and deeply honored to be given the opportunity to lead this historic and impactful organization. Very!
What I have experienced every day is the passion and dedication of every member of the staff with whom I've interacted. I am also overwhelmed with the commitment (and tenure) of the volunteers. It is my experience that volunteers do not remain engaged with an organization for years and even decades unless they feel a sense of accomplishment and appreciation. Amazing!
I also acknowledge just a bit of intimidation at the challenge of building on a 120-year legacy, one so rich with accomplishment. Lincoln's observation that "we cannot escape history" seems very relevant and current. 
So, I ask your help as I work with our board, staff, volunteers, donors, and our constituents to cast a vision to build on our legacy.
I believe that with innovation, creativity, and courage, the human/animal bond can change the world. We can be the agents of that change. To so do, we need to extend our love for animals and our passion for service beyond the walls of our building. While we redouble our commitment to every animal who comes into our care within our walls, we need to keep building a bridge to the neighborhoods of our city where the unconditional love of an animal can lift the human spirit and provide healing and hope where they are needed most.
Let's go!!