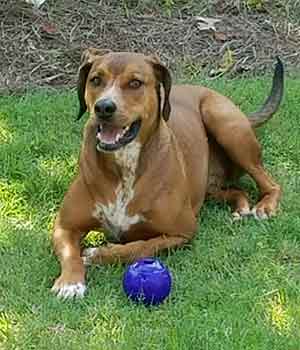 Miles
Miles' full name is now Miles Davis Smith (Davis is my Nana's maiden name and I happened to adopt him on her birthday, so I thought it fitting, and also comical to name him Miles Davis)! He loves his name (probably because he knows it means he gets cookies). 
He loves going on hikes and backpacking trips, is great at running alongside my bike or with me when I jog, and we have even run in a couple of races and trail runs together! He likes running through our homemade agility course of cardboard boxes, loves napping while I work (from home), and enjoys spending time at his grandparents when I have to travel. He also has the absolute BEST greeting when you walk in the door (even if only being gone for 5 min) where he will wiggle his whole body, wag his tail, and run to bring you his favorite toy!
My family tell me all the time how much better he has made our family, and it is so true! Miles is the BEST dog ever and I know he was meant for me! Thank you for holding him there for two months as I searched websites for my perfect companion, which I found the day I walked in to the Everyday Adoption Center in South Loop to meet Miles. 
-Christin Smith, adopted Miles on 11/27/16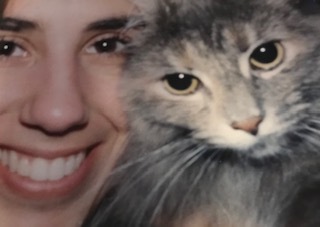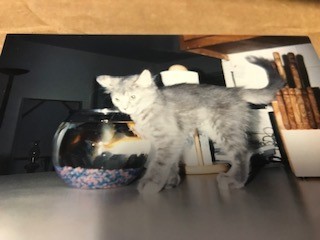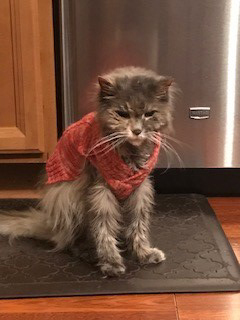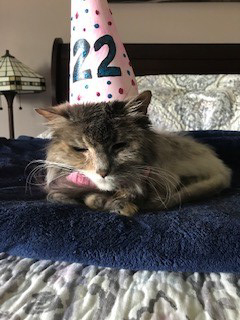 Ashlee
In July of 1996 I went to the Anti-Cruelty Society in Chicago in search of a kitten as a companion for my other kitten. This is when I saw this adorable litter of kittens, there must have been about seven, but only one was a fuzzy grey.  They were estimating them to be about 9 weeks old. The exact age was unknown since they were brought in by a man who had found them in a gutter of the Chicago streets.  This kind man wanted them to find good homes.  
I adopted the grey one who happened to be a girl, and I named her Ashlee Marie.
At the time, I was living alone in an apartment with my two newly adopted kittens, Ashlee and Tara.  These two instantly became my two best friends.  When I moved to St. Thomas USVI for a few months in 1997, they came with me.  Although, Ashlee was not fond of the heat and humidity in the Caribbean, she found the geckos quite entertaining.  
After returning to Chicago, we lived in a couple of apartments. A couple years later, I met my husband, had two boys, and still had my two best friends by my side, Ashlee & Tara.  Unfortunately, Tara got cancer and lost her battle about 9 years ago at the age of 14, which was hard.  
May 14th, 2019 is Ashelee's 23rd birthday!
Her favorites things are fancy feast canned food, deli turkey meat, tuna water and my undivided attention.  It is amazing how much love and affection these furry friends bring to your life.  I am so glad I found Ash or Ash found me, I can't imagine the last 23 years without her!
-Dawn English-Manley, adopted Ashlee in 1996
If you recently adopted from The Anti-Cruelty Society and would like to share an update, please email pr@anticruelty.org. Please include photos in your email.